The main activities for those who travel and experience Inis Oirr / Inisheer are also the ones where they revel in that simple action of breathing in wonderful ocean air.
And while claims for health benefits of recreational activity by the sea may be anecdotal, again and again visitors relate their uplifting experiences as therapeutic and energising.
Walking on Inis Oirr
The walks of Inis Oirr / Inisheer are leisurely. They are typically planned to last from one up to three hours, depending on your sense of adventure. These walks are mainly through beautifully limestone walled boreens and coastal trails.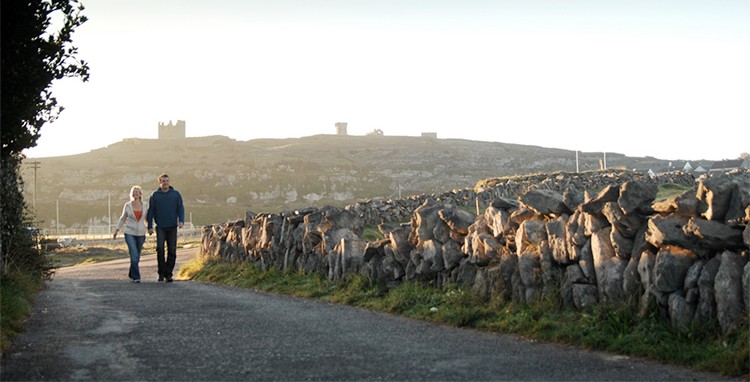 An island walk will open up an inspiring limestone landscape, a perfect white sand beach, a rich tapestry of island life and wonderful sights towards the mainland and the neighboring Aran Islands that break a vast horizon. You will also be afforded that wonderful joy of the walker who gently goes into nature – habitats of wild sea and island birds, abundant seashores, rich flora and fauna and meadows of wild grass and exotic flowers.
–    8km and 13km looped walks/hiking trails have been developed with Discover Ireland
–    Guided walks of the island are also available, from Cleas Teo
–    Awarded Golden Mile Award of Galway from Formna Village to the Lighthouse
Siúil Leat! Guided Walks
Cleas organise guided walks throughout the year!  Large and small groups are catered for.  These walks, guided by islanders with in-depth local knowledge are considered by many to be "the highlight of the Inis Oírr visit."  See: www.cleas-teoranta.com cleasteo@gmail.com +353 (0)99 75979
Cycling on Inis Oirr
Cycling on the quiet and charming boreens (roads) of Inis Oirr / Inisheer is a magnificent way to take in the many sights and artifacts of this wild Atlantic island. It is also a great way to experience dramatic scenery, the aroma of abundant wild flowers, karst limestone landscapes, a white and sandy northern beach and an eclectic mix of historical features.
Bicycle hire on Inis Oirr / Inisheer is conveniently located next to the pier where the ferries arrive and depart. A large selection of bikes and bike equipment for adults and children is available.
–
Swimming & Water Sports
The island boasts two green coast awarded beaches, An Trá and Trá Poll na gCaorach. The wonderful bleached white strand are all the more bejeweled when seen through the clear ocean waters which twice daily wash over them. They are popular beaches for swimming, walking, water sports or just hanging about on long island summer days.
Diving and snorkelling is very good on the island. There's more life in the ocean here than on many tropical reefs.
–
Angling
Specialist angling trips are also arranged on the island. A visitor to the island a few years ago had spent 30 years trying to catch the specimen cuckoo wrasse, and on his first day on Inis Oirr he caught one from the shore. His feet hit the ground for two days after!
–
Birdwatching
Everywhere, between sky and land are the wonderful wind-held Atlantic and island birds. Over 30 species have been recorded, amongst the familiar residents and seasonal visitors are cormorants, arctic terns and swift kestrels.
–
Flora & Fauna
Sheltered among endless rock crevices and small walled fields is an abundant ecosystem of rare flora and fauna of the Burren region, in natural cover from an ever-changing sea climate. May and June are the best months for seeing the widest variety of flowers.
–
Family Activities
The island playground is included in a list of the top 10 playgrounds in Ireland, with swings, slides, bridges and benches for parents too! There's something for everyone. Some people take the ferry over for the day just to bring their kids to the playground!
–
Main image ©FailteIreland