Cleasathon-Inis Oírr, April 15th 2017
It takes place Easter Saturday each year, walkers are welcome. The event includes:
16k Adventure Run, In its' second year due to popular demand!
10k Road Run, an undulating road run over the peaceful scenic island
Twisted 7k Road Run, This is a new run to celebrate our 7th year and it takes in some of the beautiful hilly routes and grassy byways of Inis Oírr.
>> click here for complete event details and to register online
Phone: +353 (0)99 75979
Email: cleasteo@gmail.com
–
Lá Fhéile Phatrún, June 14th 2015
The island's patron saint, Naomh Caomhán (Naomh Caomhán) is celebrated on 14 June each year. Locals, Irish college students and tourists gather to celebrate this 6th century saint who is said to be a brother of St Kevin of Glendalough. Celebrations include mass in the graveyard which contains St. Caomhán's Church and tomb (leaba Chaomhán).
Other festivities include traditional Irish music and Sean-nós dancing by the islanders.
For more information: call +353 (0)99 75008
Email: ccteo@eircom.net
Water Safety Week (July)
Water safety week is taking place in Inis Oírr from the 23-27 July.  To register for this course please call +353 (0)99 75008 with your name and date of birth.
Kellogg's GAA Cul camp (August)
Kellogg's cul camp is taking place in Inis Oírr from the 30 July-3 August. This camp caters for boys and girls from age 6 upwards. You can book your place on www.kellogsculcamps.gaa.ie
-Ke
Annual Currach Races (August)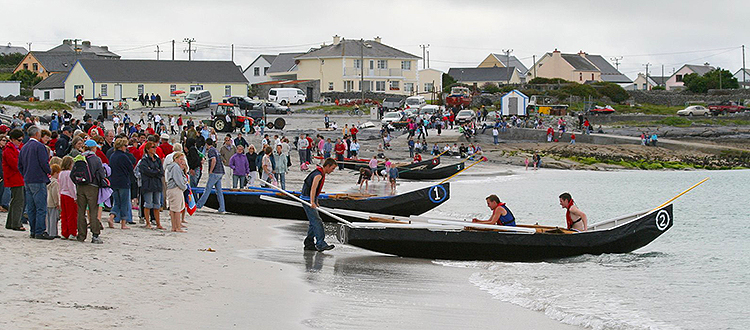 The annual Inis Oirr Currach Regatta takes place in August, celebrating the vernacular folk fishing boat used by many generations of islanders. A host of fun events are hosted on dry land also, including plenty of music and dancing in local pubs.
If it's racing, music, dance or fun for all the family that you are looking for visit Inis Oirr / Inisheer in August for a wonderful few days of local culture and heritage. 2015 dates to be confirmed – but the festival is usually held during the second or third week of August.
For more information phone 00353 (0)99 75008
Email: ccteo@eircom.net
–
Helpful information for all Inis Oirr events above
>> How to get to Inis Oirr –  ferry details and air service